Argonaut Mix-mount or Tri-mount… as opposed to side-mount
The new side mount configuration has been talked a lot for technical diving and I can see a few situations where it can be beneficial. I am not interested in getting in tight spaces, but I would be interested in getting qualified for tri-mix and renting a couple of tri-mix cylinders when traveling to some specific destination.
For some decompression (extended rage) diving, I have used doubles with a center outlet and an alternate outlet for a completely redundant regulator, but I would never travel with my doubles unless I was driving somewhere and then I am not interested in oxygen cleaning my doubles for the rare occasion where I want tri-mix (using partial pressure blending).
So I set this up for some Mix-mount diving, as opposed to side mount diving.
The good news:
The hose routing and pluming worked great. The regulator performance and usability of the connections worked fantastic. I have actually triple redundancy with this system, three potentially independent air sources.
I used the Argonaut Kraken as a manifold block to share the IP from three different first stages. The back-gas is only an AL30 and I set the IP on the Kraken t 110 PSI. The IP on the two Conshelfs is set at 135 psi. Therefore, as long as the shut-off barrel valves are open on either side mount cylinder, the back-gas will not be touched and it will be an extra gas reserve.
There are quick disconnect with shut-off valves on each of the side mount cylinders regulators. I can isolate all three air sources and each one has an independent regulator.
The not so good news (well maybe not so bad):
This was my first in the water test day so my side cylinders position need some adjustment. They are too far forward and dangling too much. They were somewhat clumsy in this position. I also need to adjust my back harness a bit. It is going to take at least one more dive(or two) to get the kit all dialed in.
Using a drysuit and heavy neoprene gloves makes the entire testing process a lot more clumsy.
The side cylinders that I am using are small (61 cuft at 3300 psi) but they are very heavy. I can shed about 8 pounds of lead by using these cylinders. Out of the water they are almost 30 lb each, plus the back-gas cylinder, regulators, and harness it all adds up.
In all, this is an interesting and versatile setup and I will be experimenting and developing it further, but it will never replace my simple steel 72 (or a rental AL80 in the Caribbean) on my VDH backplate with a simple wing.
Here are some pictures taken by John in Sebago lake.
The front of the tanks are too low. The bottom tank band needs to be close to the center of the cylinders and the valves need to be tucked under my arm.
I will fix that next test dive.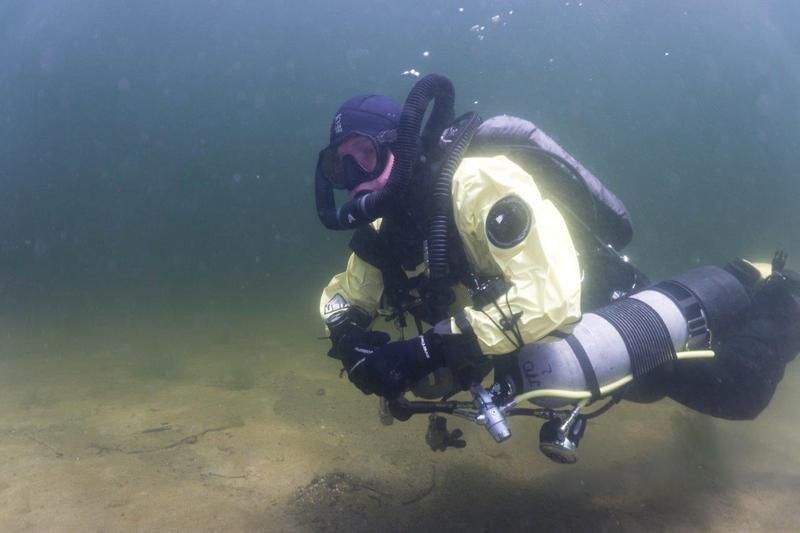 BTW, this was also a working dive. John and I installed a mooring ball. On my right hand is a mesh bag with tools and on my left hand is a lift bag.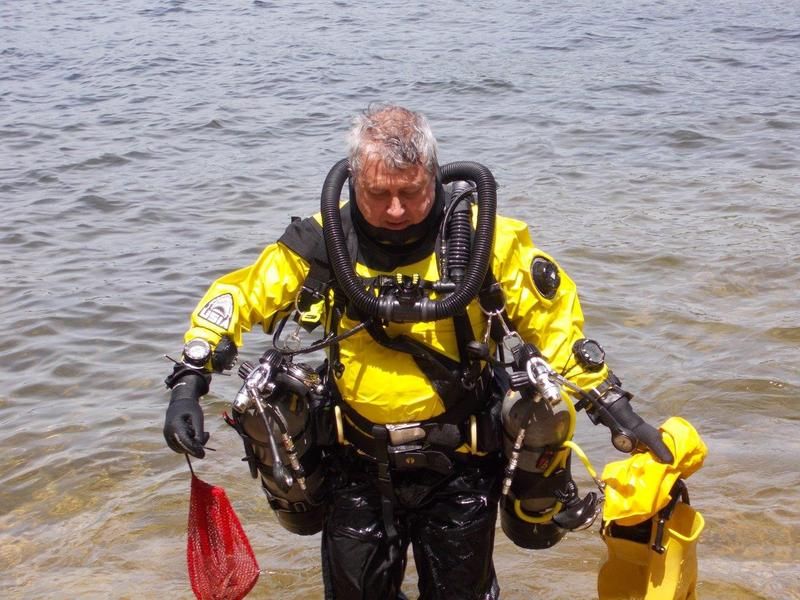 There is no need for over pressure relief valves. All three first stages (the Argonaut and the two Conshelf) have a second stage attached to each one. The Argonaut always has its second stage and the two Conshelf have Scubapro 109 attached to each one. The LP hoses are all protected by at least one second stage at all times.
I am always breathing from the Argonaut second stage and under normal diving condition it is being fed the 135 psi IP from either or both Conshelf. I lowered the IP output on the Argonaut first stage down to 110 psi. As long as the Conshelf is feeding 135 psi, the back-gas is not touched.
In the last picture, hanging from the two side tanks, you can see the LP hoses with the "high flow" quick disconnect and barrel shut-off valves. All the LP hoses tie into the Argonaut LP ports (I had to add one LP "Y" adapter). The LP section of the Argonaut works as a LP manifold or LP block. It is actually a very simple setup.
The BC QD inflator and the drysuit inflator are also attached to the Argonaut (I am obviously not running an octopus out of the Argonaut). In an out of air situation, I could hand off one of the cylinders to a dive buddy if needed.
The performance of the Argonaut when it is fed LP air from the Conshelf is that same as always. IMHO, it is fantastic.
I will try to take some detail pictures of the pluming and post it later.
Doing semi independent doubles would be very easy. I like running the valves in front of me. It makes it a lot easier to reach, specially with a drysuit and gloves.