Forty years ago, I spent two weeks of my summer vacation in Italy. It was a two-centre trip seamlessly organised by the country's national tourist agency with half-board hotel accommodation in Rome during the first week and on the Amalfi coast during the second, which enabled me to go snorkelling in the cool waters of the Mediterranean before flying back to the UK.
While sightseeing in Rome, a copy of the August/September 1977 issue of
Il Subacqueo
(above) caught my eye at a newspaper kiosk. I was looking for something to read in my hotel room after dinner and one of Italy's diving magazines fitted the bill as my mind was drifting towards the second vacation week to be spent on the coast. That magazine still stands on one of the shelves of my bookcase of diving literature. On page 78 of the magazine I found an advertisement for an underwater equipment purchaser's guide entitled
Guida all'acquisto dell'attrezzatura subacquea
: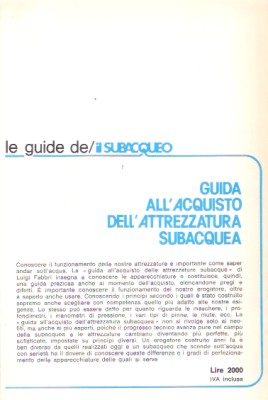 Books wholly dedicated to diving equipment were an early passion of mine and also something of a rarity. The following morning I managed to locate the small volume in a nearby Roman bookstore. Its 64 pages covered the full gamut of underwater gear available in the late 1970s, not only breathing apparatus but also the basics, including masks, snorkels, fins, suits, weight belts, knives, spearguns, watches, depth meters. 2000 Italian Lire well spent for the booklet, which stands next to its 1967 German-language counterpart by Wolfgang Freihen (below) in my bookcase: Curiously enough, there is no English- or French-language equivalent to complement these Italian and German titles.
My summer reading this year will be another title by Luigi Fabbri, the author of
Guida all'acquisto dell'attrezzatura subacquea
:
I have just taken delivery of a copy of Fabbri's 2014 publication
Le attrezzature subacquee nel loro tempo 1930-1990
, which charts the development of underwater equipment from 1930 to 1990. These six decades are divided into the following five historical periods (my rough translation from the Italian):
1930-1950: The era of pioneers
1950-1960: The discovery of the sea
1960-1970: The golden age
1970-1980: The race to the Sixth Continent
1980-1990: The sea for everyone
The book is profusely illustrated with drawings and colour photographs, many of which can also be viewed on vintage diving websites. Luigi Fabbri has his own magnificent
Blu Time Scuba History
site at
http://blutimescubahistory.com/
and I urge everybody to visit it to see his collection of historical diving literature and equipment built up over a lifetime of passion for his subject.
As for the book itself, the president of the Historical Diving Society of Italy has provided the following review: "Scorrendo le pagine del libro, leggendone i testi e ammirando le immagini che esse contengono, tutti i sub potranno ripercorrere la storia della subacquea moderna. I più maturi forse con un po' di nostalgia e quali meno maturi o giovanissimi meravigliandosi di come il tutto abbia avuto inizio." My translation: "Scrolling through the pages of the book, reading the texts and admiring the images they contain, all divers can retrace the history of modern diving. The more mature perhaps with a little nostalgia and those less mature or very young wondering how it all began."
I hope the above is of some interest to diving historians and readers of diving literature. I am looking forward over the next few weeks to a more detailed perusal of Luigi Fabbri's
Le attrezzature subacquee nel loro tempo 1930-1990
.
Bibliographical reference:
Luigi Fabbri (2014)
Le attrezzature subacquee nel loro tempo 1930-1990. Prodotti, avvenimenti, personaggi, protagonisti dell'evoluzione della subacquea
. Edizioni Ireco (
http://www.ireco.net
). Price: € 30.00.