Carole S. Briggs: (1981)
Skin Diving is for me
, Lerner Publications Company, Minneapolis. ISBN 0-82225-1132-0.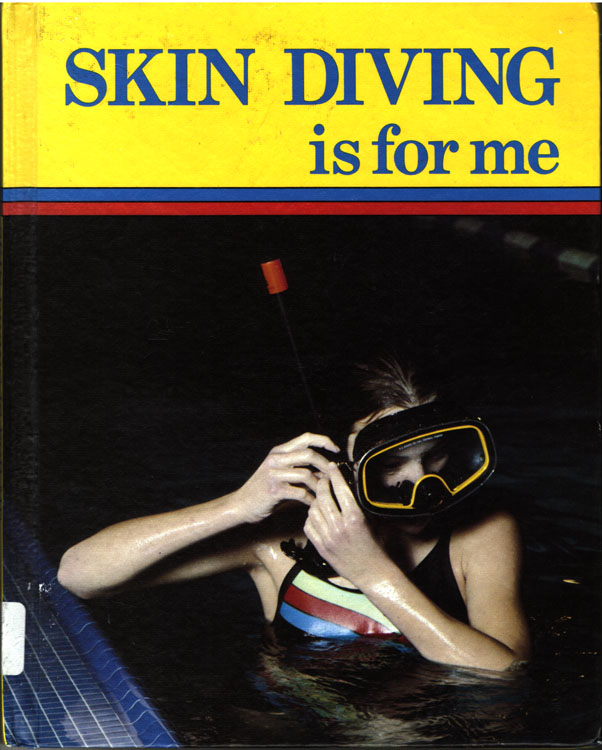 I purchased this book as a first edition from the publisher's own premises in Minneapolis where I was spending a summer with my brother. As a retired secondary school teacher, I have always had a professional interest in getting the younger generation to catch the reading bug as early in their lives as possible.
Skin diving is for me
is a slender hard-back tome (48 pages) written by Carole Briggs, who spent her summers scuba diving in Tahiti and illustrated with numerous photographs taken by Carter Ayres, who dived the Great Barrier Reef and French Polynesia.
In spite of these exotic travel credentials, the book's setting is the Upper Midwest American state of Wisconsin. Briggs provides the reader with a 12-year-old girl's first-person account of her learning path in snorkelling from an outdoor pool in Madison to an open-water foray in Devil's Lake, WI. We witness her awkward start using her older brother's gear, her first visit to a dive store where she buys properly fitting gear, her success while retrieving and donning her gear at the bottom of the pool and her trip out of town to enjoy snorkelling in a State Park. The book ends as she and her family look forward to visiting Hawaii the following year.
The writing really does sound authentic, reproducing the language of a young person on the eve of her teens and conveying the protagonist's excitement as she masters new skills and copes with new experiences. Briggs is neither patronising nor sentimental, which are always dangers when an adult tries to get into the head of a child. The photographs complement the text wonderfully, illustrating each stage in the girl's progression rather than amounting to a collection of holiday snaps. So far as I know, this is the first piece of diving literature written from a young person's point of view. It is also refreshing that the protagonist should be a young female, when earlier juvenile diving literature centres almost exclusively on males in their later teens. It's great as well to see breath-hold diving being undertaken in home waters rather than foreign resorts. From a vintage diving perspective, it's also good to see an early 1980s volume without low-volume silicone-skirted masks or plastic-bladed fins.