THIS IS VINTAGE DOUBLE HOSE
Explore • Learn • Grow
Come Dive With Us!
For more than a decade Vintage Double Hose has done our very best to be your single source destination for
Vintage Scuba Equipment
Providing parts, service, and supplies along with a community support forum to discuss all things vintage diving.
Your source for one of a kind products that exist no where else.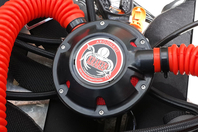 ARGONAUT KRAKEN
First totally new double hose regulator for the 21st century.
Divers from around the world diving with Vintage Double Hose Gear: