Amateur Diaphragm Project...
- I got the conshelf diaphragm but I don't have a hole punch and I didn't want to tear the new diaphragm by peeling the metal off the back. So, I've been procrastinating on this project... Finally yesterday I just jumped in with a different approach.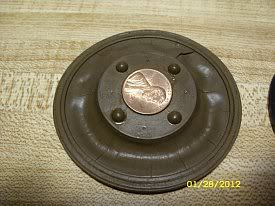 - The original diaphragm had a hole the size of a penny...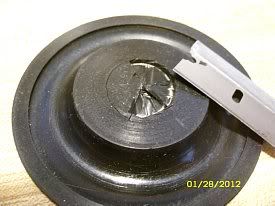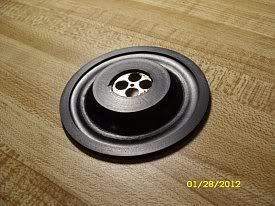 - I used the penny as a template to cut the hole. Then used drills to cut the openings. Caution, the drill can bite and nearly rip the diaphragm out of your hold.
Conclusions
- The drilled openings work fine but cutting the hole with a razor blade leaves rough edges and a possible poor seal. This diaphragm now works but whistles on exhaling... I think that's the rough edges. I also think it needs a larger one way valve with a little longer clearance on the center... This one is so tight it's kind of like an inside out umbrella.
- This is good enough to use for working on this reg further... It actually breathes pretty good but it occasionally has a pop or a snap of air that is unnerving... feels like its going to let loose and then stops... Then it breathes fine afterward.
- I think after I get the pop and snap figured out, I might do another diaphragm... This time with a punch hole.